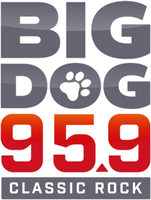 Classic Rock, Big Dog 95.9
Big Dog 95.9 is the most listened to rock radio station in the Fort Smith metro by men between the ages of 25 and 54 years with one out of every five males in that age range spending time with Big Dog each week.
Big Dog plays a blend of classic rock from every era allowing artists like The Who, AC/DC, Nirvana and Motely Crue to perfectly co-exist on one radio station.
The station personalities include mornings with Bob & Tom, Maria Milito keeps the office awake, Corey Winfield rocks the ride home and Motely Crue's Nikki Sixx is on at night.
62% of Big Dog's listeners are guys so the station is perfectly optimized for your business if you depend on male customers.
Call Letters: KKBD
Format: ROCKCLASSIC
Dial Position : 95.9 FM
Brand: Big Dog 95.9
Target Listener: Men 25-54